Double glazed units also known as insulated glazing units or IGUs) consist of two layers of glass separated by an argon or air filled gap.
Impala Glass manufacture DGUs with glasses from St Gobain, Guardian, AGC and Pilikington.
Comprehensive performance datas are available from each of the mentioned float suppliers.
The combination of air space and multiple glass panels creates an additional barrier that decreases the air to air temperature transfer while reducing direct and radiant temperature transfer from outside or inside the building.Sound Insulation is an added advantage for DGUs.
Where applicable larger spacers are encouraged to increase the units performance.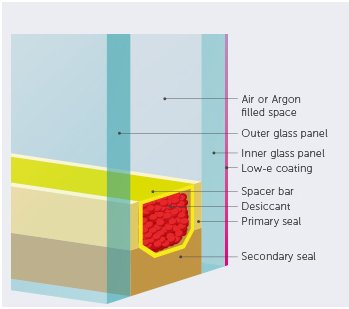 Extensive Range of glass options from clear, tint, solar control, Low E (performance glasses)
Excellent Solar and Thermal Control lowering air conditioning and heating costs
Spacers range from 6mm to 16mm
Secondary Sealant: Polysulphide/Structural Silicone
Spacer Type : Aluminium Black or Silver Color Options
Commercial Buildings Glazing Commercial Buildings Glazing Commercial Buildings Glazing ---
Commercial Buildings Glazing Commercial Buildings Glazing